Our Organization
The Bearspaw Lions Club is, as are all Lions Clubs, an organization dedicated to raising money for charitable purposes. Over the past 61 years the Bearspaw Lions Club has concentrated on programs for young people, the disabled, the elderly, the visually impaired and the sick. In 2013 the Bearspaw Lions Club donated nearly $40,000 to charitable causes. Fundraising events such as the Bearspaw Lions Farmers Market enable the club to assist those in need.
Our Event
The Bearspaw Lions Club is hosting the Bearspaw Springtime Charity Ball on June 6, 2015 at the Bearspaw Lifestyle Centre to celebrate Spring in Alberta. You are invited to attend an exciting evening of good food, good company, a great meal, great music, dancing, and a silent and live auction of valuable lifestyle items and holiday experiences. The event begins at 5 PM with a meet & greet affording you the opportunity to enjoy a variety of wines, view the auction items, and mingle with the other guests. An exceptional three course sit down meal prepared by The Bears Den Restaurant and Lounge, will be served at 6 PM. The Sentimental Journey Big Band will play popular musical selections from the Jazz and Swing Era. At 8 PM, the live auction will provide an opportunity to bid on exciting lifestyle items and holiday experiences. Following the live auction you can dance the night away to popular musical selections from the Jazz and Swing Era performed by the Sentimental Journey Big Band. Tickets to the event are $175.
Our Event Beneficiary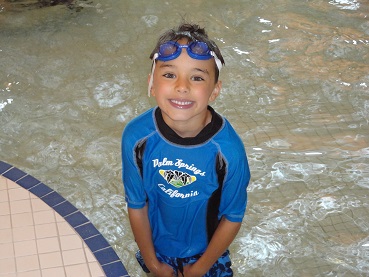 Although the Bearspaw Lions Club donates to several high profile organizations such as STARS Air Ambulance and the Salvation Army, the Club often assists individuals in need. This event will provide much needed financial assistance to help rehabilitate a young boy who suffers from brain injury and bring aareness of the plight and struggles of others that suffer from brain injury.
On December 12, 2012 a grade three student named Nicholas Kitzul signed out of his classroom to use the washroom. He put on a mandatory hallway pass around his neck that was attached to a non-breakaway lanyard and left the class. When a fellow student went to use the washroom he discovered Nicholas unconscious and hanging by the lanyard which had somehow become lodged in the latch of the stall door. Nicholas was in cardiac arrest and unfortunately did not receive CPR until several minutes later.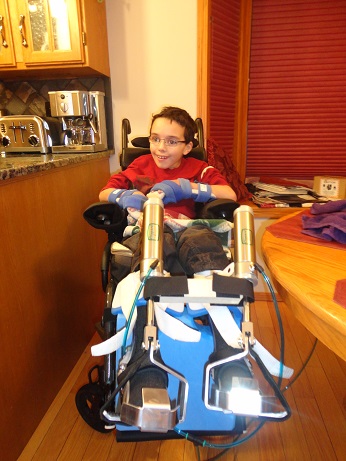 Nicholas was rushed to the Children's Hospital where he spent ten days in ICU. It was determined that he suffered a severe anoxic brain injury due to the lack of oxygen to his brain. Afterwards Nicholas spent another three and a half months in the Patient Care Unit at the hospital. When Nicholas was released from the hospital he was non-verbal, visually impaired, in a wheelchair, developed scoliosis, and could not use his arms and legs. He was on eight medications and had to be fed through a G-tube in his stomach. Nicholas' parents were devastated but determined to find a treatment or therapy that would help their son.
A community member introduced Nicholas' parents to hyperbaric oxygen treatments and since then the long road to healing had begun. To date Nicholas has had over two hundred hyperbaric oxygen treatments, craniosacral therapy, sixty neurofeedback treatments, physiotherapy, chiropractic treatments, acupuncture treatments, and has been on an orthomolecular and kinetic diet. Nicholas has also been to the United States for two stem cell treatments and is currently on a home brain injury program from the National Association for Child Development in Utah. None of these treatments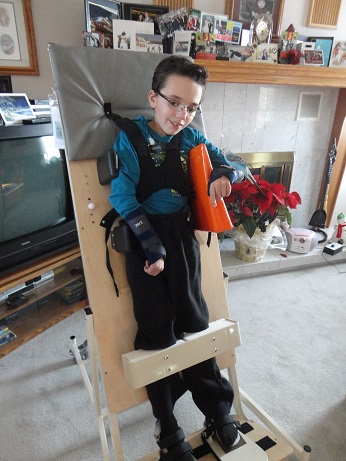 and therapists are covered by Alberta Health Care.
Nicholas' mother left her job as a teacher to care for Nicholas and spend five to six hours a day on visual, oral, and motor therapy. As a result of these treatments, Nicholas has made some great progress. His vision and cognition has improved, his back is almost straight, he is starting to move his hands, arms, and legs, and he is starting to eat by mouth and trying to talk. It is over two years since Nicholas' accident and the road to recovery is still long.
Your Sponsorship
The Bearspaw Lions Club believes additional proceeds for Nicholas can raised by staging a silent and live auction. The club would be grateful if your organization would provide one or more auction items at a reduced rate to the club. Items of significant value will be made available during the live auction. All items will have a minimum bid. The names and the logo (if available) of organizations that donate items outright or at a reduced rate will be posted on our Bearspaw Springtime Charity Ball Sponsors web page. Additionally, sponsor information will be included in promotional material distributed for the event and on a Sponsors Recognition Board at the event itself.
Thank you for your support.
Sincerely,
Ward Anderson,
President, Bearspaw Lions Club